TRIO/SSS Testimonials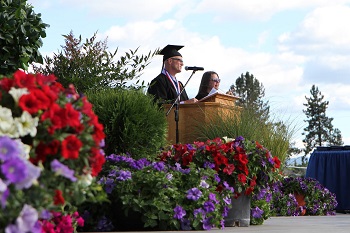 One of our 2017-18 RVC graduates was also one of two student speakers at Commencement. Just three years ago, Ziegler said, he was homeless and living on the streets, suffering from addiction, when he decided to change his life. What I love about RCC is that it is a school that allows all people, regardless of walk of life, to find a fresh start," he said. Ziegler called on his fellow graduates to share their stories with others. "Hope is available to every single one of us. Share your message of hope with others. You never know what another person is going through and that person may just need to hear your story.
Watch an interview with Curtis Ziegler on Kobi5
---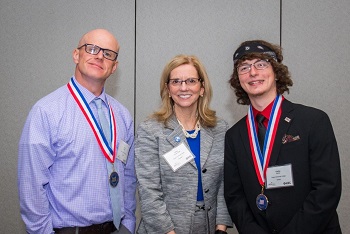 Two 2017-18 RVC students travel to Salem with the RCC college president, Dr. Cathy Kemper-Pelle to meet with the All Oregon Academic Team. This is part of the national All-State Community College Academic Team program, recognizes high achieving two-year college students who demonstrate academic excellence and intellectual rigor combined with leadership and service that extends their education beyond the classroom to benefit society. Phi Theta Kappa, community college presidents and community college state associations sponsor All-State Community College Academic Team ceremonies in 38 participating states.
Left-to-Right: Curtis Ziegler, President Cathy Kemper-Pelle, Harley Bruno
---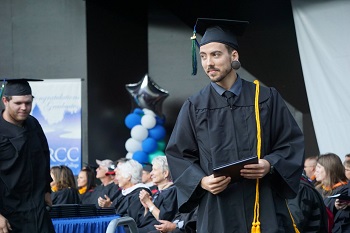 Alec Bayarsky, RVC TRiO SSS/University Transfer graduate class of 2016. Alec was a student speaker for Commencement and transferred to SOU where he currently soars as a TRiO McNair scholar. He is currently earning a Baccalaureate of Science degree in Environmental Science and Policy, a minor in Biology, and a minor in Sociology/Anthropology. He expects to graduate magna cum laude in June of 2019.
---
Since transferring to Bastyr, I have learned so much. I have 1 year left until I successfully graduate with a high GPA in the basic sciences. When I arrived at RCC I didn't know what I wanted to do, only that I knew I wanted a college education. TRIO connected me to the resources I needed to develop faith in myself and my ability to excel in the academic world. This belief in my own abilities has continued to grow, and I will always reflect back upon my time at RCC as the school that made it all possible for me. I continue to do well in my classes and was even awarded a $6,000 scholarship! Thank you for helping me lay the foundation of my life, learning, and success!
They've helped me make a final decision to transfer for the better of my future, they helped make my transfer and my financial aid process go at ease, they went through my pace and always reminded me to get things done on time and exceeded my expectations.
TRIO helped me with anything I needed, they were very supportive, I met new people, we had meals together, if I had needed a tutor there were people there, or a calculator, I was also able to borrow a cap and gown for graduation, and most important of all they helped me apply for scholarships and grants that were available to me.
TRIO provided me with help in more things than I can count: one on one tutoring, university tours, advising, financial education, provided me with a community that I now have made lifelong friends from.
TRIO helped connect me to tutoring services and made it possible for me to achieve and maintain a 4.0 GPA! Bonnie and Layne were super helpful keeping me on track with my transfer requirements to my dream school, and helped me know what I needed to do to realize my goals!
The university tour was very helpful! The tutoring experience helped greatly. The muffins were encouraging. Lots of small things they did for us, and many little questions got me to succeed. It would not have been the same without them.
TRIO has been a wonderful program. Though my involvement with TRIO-SSS I was able have an easy transition from a Community College to a University. The Trio counselors made an enormous difference in my journey's success.