2019 Innovation Award Recipients
Individual Innovation Award Recipient:
Laurie Roe, Director: lnstitutional Research
Project: Engaging Students in Learning through Student Work Opportunities
Laurie's aim is to directly match the tasks given to our student workers with their educational goals, with the end product benefitting RCC, IREP, and the student's resumé &/or work portfolio, making them even more employable as they go forward.
Laurie will be meeting with Student and lnstructional Affairs to formalize and pilot student working positions with embedded student learning outcomes.
Though this approach is in its infancy, RCC's ATD Data Coach has already recommended we draft this model of using students to build data capacity for potential sharing at the Achieving the Dream Conference next year.
---
Team Innovation Award Winner Recipients: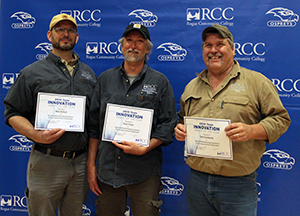 Team: Manufacturing, Mechatronics and Welding Depts.
Leader: Juliet Long, VP of Instruction
Recipients: Steven Foster, Mike Bullard, Todd Giesbrecht
By utilizing the strategies of a flipped classroom and converting course delivery to a hybrid model, these three departments have created an innovative cross department collaboration where students from manufacturing, mechatronics and welding share physical space and virtual online learning space as part of a model that provides flexible scheduling, addresses workforce needs and serves both working adults and traditional students while providing access to high quality advanced manufacturing training in demand by local workforce.
---
To learn more about the Innovations Conference, the foremost gathering of community college professionals, fostering innovation in teaching and learning , visit www.league.org.