Scholarships
Scholarships offer a good way to help pay for your education. Thousands of scholarships are available each year, and every one of them has its own unique requirements. You must search out scholarships to match your own skills, interests, heritage, and field of study. Also, be sure to keep track of your academic achievements, work experience, and extracurricular activities. Many scholarships are based on your involvement in certain activities and/or your association with particular groups.

Scholarships are monetary gifts presented to students who meet conditions defined by the person or group giving the money. Many organizations, agencies, and businesses - including Rogue Community College - offer scholarships. You can search through books about scholarships, available in Student Services. There are also many online sources of information about available scholarships.
You may apply for scholarships from the Rogue Community College Foundation, the Oregon Student Assistance Commission (OSAC), and from other organizations and privately funded sources.
For Study Abroad scholarships go to http://www.studyabroadfunding.org
RCC Foundation Scholarships
The Rogue Community College Foundation is a private, nonprofit corporation founded in November 1980, which is dedicated to "Resources for Excellence in Education." A new application process starts every January. For application process dates, please visit the RCC Foundation website.
The Foundation's purpose is to receive and administer gifts and bequests that will provide educational opportunities for student success, support for college programs, faculty advancement, instructional enhancement, campus development, and community enrichment.
The RCC Foundation Scholarship Committee reviews scholarship applications and selects recipients based on academic achievement, financial need, faculty recommendations, and student essays. Award amounts vary depending on the amount of the donation and annual earnings on endowments. Scholarships are awarded according to criteria set by donors.
Oregon Student Assistance Commission (OSAC) Scholarships
OSAC Website
The Office of Student Access and Completion provides hundreds of scholarship opportunities for Oregon students, and you can apply for your choice of these with just one application. Because some new scholarship programs may be added during the year, you will be considered for any new OSAC program if you complete the application process by the March 1 deadline.
Scholarship Search Tools
Scholarship Central
The Financial Aid office regularly receives notices of scholarships offered by organizations outside the college. These scholarships will be listed at our own scholarship search site called Scholarship Central, which is updated frequently. RCC is in not responsible for the selection or awarding of these scholarships, but links to them are provided for the benefit of RCC students. For more information on any outside scholarship, visit the donor's website, if listed, or contact them by phone or mail.
Click here to learn about the FastWeb scholarship search.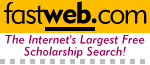 Based on your answers to a short questionnaire, you can receive free scholarship sources other than the RCC Foundation and OSAC, and for other colleges beyond RCC for which you may apply.
If you change majors, be sure to update your answer to the question about majors. List as many areas of study as appropriate. If you are not awarded a particular scholarship the first time you apply, reapply the following year.
The FastWeb database is updated daily. An electronic mailbox will be created for you on FastWeb's computer when you use this program, and new scholarship possibilities will be automatically sent to this mailbox.
Note: The Attorney General of the state of Oregon and the U.S. Federal Trade Commission have both issued warnings and taken action against companies that "guarantee" scholarships to families using for-a-fee scholarship search services. State and federal authorities remind families that using the word "guarantee" in promotional materials is a questionable activity of scholarship search businesses.