John Holland studied people and work styles. He created a system that matched personalities with work.
PEOPLE
How close are you to these personality types? Each is based on different abilities and preferences. See the chart on the next page for more details.

WORK ENVIRONMENTS
Each personality goes with a work environment. If you think a type mostly fits you, look at the environment description. Check the websites listed below. They have exercises and info to match you with the right major.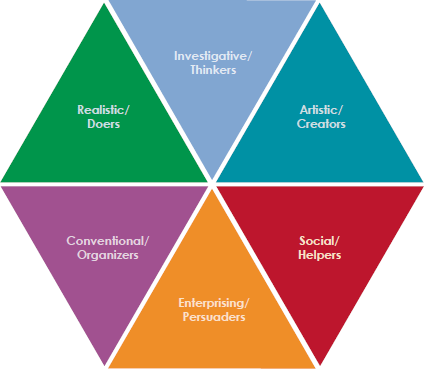 RCC would like to thank Dr. Mary Askew and hollandcodes.com for allowing us to serve the students of our region with this wonderful resource.
This quiz was adapted from the Hollandcodes.com web site. Hollandcodes.com provides additional information about Holland Codes career assessments, books, and resources. For more information, please contact -
Dr. Mary Askew
Learning for Life Resource Center
4133 E. Siesta Lane
Phoenix, AZ 85050
(602) 569-1050
[email protected]
www.hollandcodes.com