Claudia Sullivan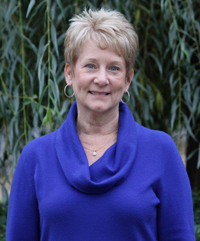 Claudia Sullivan was born and raised in Northern California. After high school graduation she worked in retail sales. Claudia and her husband, Geoff, moved to Southern Oregon in 1976 to start a family. While their sons were young, she attended RCC and earned an Associate's degree in Business Management.
As Claudia took classes at RCC, she worked in the Registrar's office as a student employee. She so enjoyed the experience that she applied and was hired as a Registration Specialist in 1991 after graduation. While working at RCC and raising a family with her husband, she attended Northwest Christian University and earned a Bachelor's degree in Managerial Leadership.
Having held several positions in Enrollment Services between 1991 and 2004, Claudia was honored to be promoted to director of Enrollment Services in 2004. Upon retirement from the position of Director of Enrollment Services in 2015 she wanted to continue her strong connection to students and College staff, so she ran for a seat on the RCC Board of Education. She was elected in May 2015.
During Claudia's tenure at RCC she has seen the College grow to serve both Josephine and Jackson Counties at three campuses and several sites. She is proud of her contributions to that growth and to the continuing improvements of services to students. She looks forward to her term on the board and hope that her years of experience will provide a positive contribution to the health of this institution.