RCC Arboretum
The RCC Arboretum was established February 22, 1982 with the first gift as a living memorial. The RCC Arboretum is a collection of both native and ornamental plant species arranged for convenient study, interpretation, and enjoyment by the community. Arboretum plantings are an integral part of continuing efforts to beautify the RCC campus. The Arboretum is an addition to the Science, Horticulture, and Forestry Programs of the College. The Arboretum is a community resource available to local groups, elementary and secondary schools, and private citizens.
Why an Arboretum?
The original goal of the RCC Arboretum was to provide a place where trees could be planted as living memorials. Through the years an effort has been made to plant a variety of trees and shrubs from all over the world while maintaining the many species of Oregon native trees that are at home on the 84-acre campus.
The arboretum also educates the community about the diverse tree species that grow in the region, serves as an outdoor classroom for horticulture and botany students as well as home gardeners, and conserves the botanical heritage of rare and unusual trees as well as more common species.
Klamath-Siskiyou Eco-Region
The Rogue Community College Redwood Campus is situated in the Klamath-Siskiyou ecoregion, an area recognized by botanists throughout the world for its biological diversity, including many unique trees, some that are found nowhere else on the planet. The wide variety of soil types and complex geology contributes to the area's amazing biodiversity.
Southern Oregon Climate
In most parts of the United States, the growing season is determined by the winter temperature lows and summer highs. In southern Oregon, the Pacific Ocean moderates and is the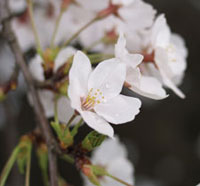 main determinant of the weather. The proximity to high mountains is the second biggest influence. The region has numerous microclimates because of the difference in air flow, slope and elevation, as well as a variety of soil types.
Typically southern Oregon springs are wet and summers are dry — weather more typical of northern California than most of Oregon. Winters are usually mild but with enough chilling to give us colorful autumn foliage on the trees.
Maple, ash and dogwood brighten southern Oregon gardens and woods in the fall. Pacific madrone and majestic white oaks are ubiquitous in suburban neighborhoods and the surrounding hills. Douglas fir, incense cedar, Port Orford cedar, Brewers spruce, Pacific yew and numerous species of pine and fir are among the more than two dozen conifers endemic to the Klamath-Siskiyous.
Botanical Nomenclature
Latin is the language of botany. Latin scientific names are universal, whereas common names can be local. Latin names are often descriptive of the plant as well. In the binomial system of naming plants, the first word is the genus and the second is the species.